DISCOVER MICRONEEDLING
a versatile and easy treatment for beautiful skin!
Imagine reducing signs of aging, acne scarring, and even facilitating hair growth quickly and comfortably. Microneedling is your dream come true for a myriad of surface concerns!
WHAT IS MICRONEEDLING?
CosmoPen is a cutting-edge, high-speed microneedling system. Microneedling, or collagen induction therapy (CIT), involves creating a controlled injury underneath the skin's surface with tiny, sterile needles to create new collagen!
WHY CHOOSE COSMOPEN?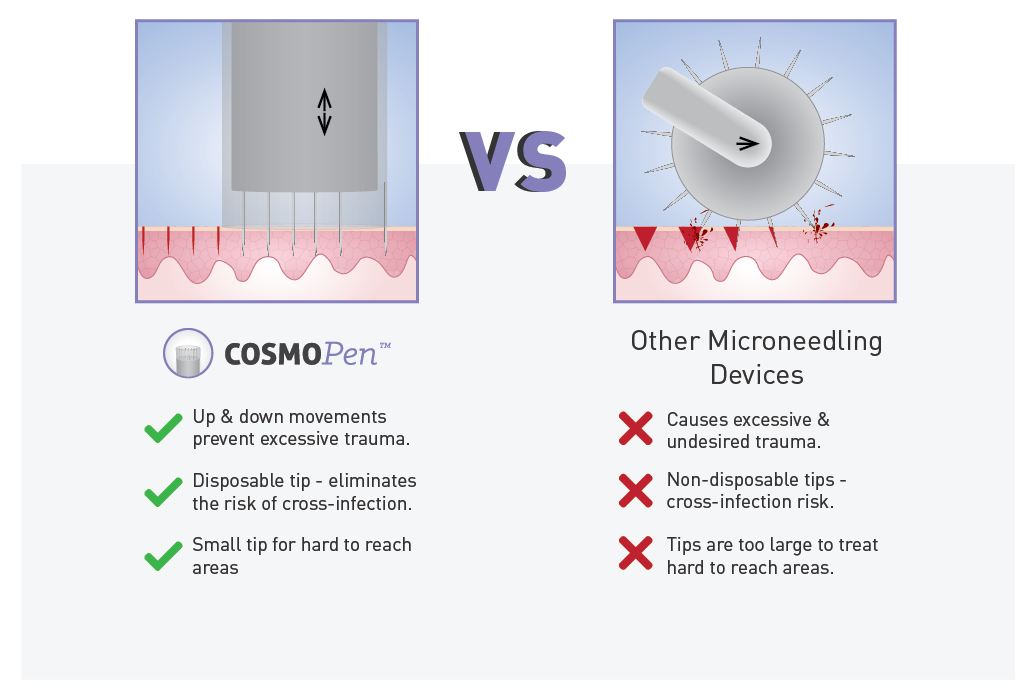 Find a Cosmo Pen Prac​titioner Near You!
We do not provide treatments, but if you fill out the form below, we will help you locate a CosmoPen practitioner in your area.
Don't Just Take Our Word For It!
"I was surprised by the minimum amount of pain. I thought I was going to be much redder after the treatment but I'm not and it only feels like I got a sunburn! I would definitely recommend this to everybody!"
-Andrea Treated for hyperpigmentation from sun damage .
"I recommend micronneedling to anyone looking for benefits like I was: diminishing acne scars, brown spots and for general anti-aging benefits. I've done so many procedures in the past that had so much downtime. This was great, within 24hours I was ready to go back to my normal activities."
-Julie Treated for acne scarring and anti-aging.